Book Review: Early Christian Thinkers edited by Paul Foster (IVP)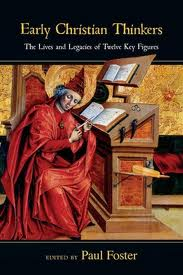 Many thanks to IVP Press for providing this review copy
Title: Early Christian Thinkers: The Lives and Legacies of Twelve Key Figures
Edited by: Paul Foster
Price: $23.00 (Amazon Link)
There is an ever-growing interesting into early Christian history and the Church Fathers. This interest is two pronged: Many are seeking to understand the rise of Christianity and another related group is interested in the interpretive method of these early Christian thinkers. These are not new categories but the larger interest of a younger generation is growing. It is difficult to dive into these early writings without understanding the context of the writers life situation and other writings. This book finds its niche in providing a scholarly overview of these writings and the impact it had on later Christian writings. This is why this book, Early Christian Thinkers is a needed addition to the plethora of introductory resources of the early Church.
As it is with literature, all writing builds and is related in some ways to other similar (and not so similar writings) writings. This volume seeks to show "the way in which these early Christians, while being rooted in their own cultural contexts, made innovative contributions towards developing Christian thought, theology, and piety (xi)." Many of these contributions to early Christianity are intertwined with other Christian thinkers and are responses to others outside the faith. This collection of essays successfully shows the development of the writer, the importance of his/her writings for the Christian faith, and the effects it has on later Christian writers.
The book is laid out in twelve distinct chapters covering the following early Christian thinkers:
Justin Martyr (Paul Parvis)
Tatian (Paul Foster)
Irenaeus (Denis Minns)
Theophilus of Antioch (Rick Rogers)
Clement of Alexandria (Judith L. Kovacs)
Tertullian (Everett Ferguson)
Perpetua (Sara Parvis)
Origen (Rebecca Lyman)
Cyprian of Carthage (J. Patout Burns)
Hippolytus of Rome (Ulrich Volp)
Gregory Thaumaturgus (Michael Slusser)
Eusebius of Caesarea (Timothy David Barnes)
Each chapter seeks to give a paragraph length introduction, a short biography, an overview of the writings, theology, legacy, and a concise bibliography. Overall, most of the authors successfully wrote within this context. The essays by Lyman (Origen) and Kovacs (Clement of Alexandria) were especially insightful. Lyman's portrait of Origen was fair and even-handed in giving an overview of his life and the controversies surrounding his writings. Kovacs gives a helpful overview of Clement's theology by summarizing it in five key ideas:
What is the purpose of human life?
Who is God and how can he be known?
How is the revelation of scripture to be understood?
What is God's plan for human salvation?
How are believers to become perfect?
I was also excited to see the inclusion of Perpetua's writings. Often in introductions to early Christian thinkers a female presence is neglected. The essay was interesting and insightful but it did seem out of place for this volume. Each other essay shows how the persons writings and thought were unique and influenced other Christian thought. But with this essay it is more of a biographical sketch of the author and her theology. The essay concludes by saying, "If Perpetua is not the early church's greatest theologian, what she has going for her is yet something fairly rare: we have convincing portraits of both her family and her public life, and they add up (109)." This conclusion sums up the essay, a fine biography of the life of Perpetua but lacking in the influence she had as an early Christian thinker.
There was one particular essay that did not seem to fit the purpose of the book, Tatian by Paul Foster. In this essay Foster seemed to focus an unduly amount of time on text critical issues in Tatian. This seemed out of place within the context of the rest of the essays, which rarely focused on text critical issues of the writings. When others did mention them it was concise and to the point. The essay still has redeeming qualities though. Foster provides several helpful charts showing some of the content of Tatian's writing. His section on whether Tatian was a heretic is insightful too. He concludes that most likely Tatian's writings were not "unorthodox" at the time and some of his followers later formed unorthodox doctrines that Tatian was linked to.
The bibliographies of most of the works are especially helpful for the student and scholar. The bibliographies were often times broken down according to each work and then a select list of monographs concerning the writer. It is difficult for beginning students to know which works/translations to consult for academics and this provides a helpful guide.
Overall, I would recommend this book to any student that has an interest in early Christian thought. The essays written found the niche needed, they were neither to short and basic or too narrow focused on singular issues. I found myself understanding the writings of each of these thinkers better and with an eye towards the context that they are writing in. The bibliographies are especially helpful for the student or scholar wishing for sources of their works. I think that students who are interested in reading the writings of any of these early Christian thinkers would do well to first consult the relevant essay to understand the life and context of the writer. For students interested in the history of interpretation this book is a valuable read in order to better understand and utilize the writings of this era for interpretation today.
Related: See Brian Leport at the Near Emmaus blog give his thoughts on each chapter here.
---
---
---