Book Review: Handbook of Women Biblical Interpreters
You can purchase the Handbook of Women Biblical Interpreters: A Historical and Biographical Guide ed. Marion Ann Taylor here.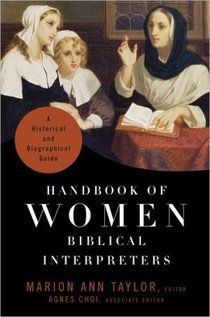 The study of women interpreters has regretfully been neglected in the recent interest in the history of interpretation. Often this enterprises focus on the ecclesiastical leaders whose writings have been past down. The focus on male interpreters paints an incomplete picture and is a failure to show the full voice of how Scripture has been understood throughout the ages. In the pre-modern period much of women's influence has been lost because they did not produce formal writings but their influence should not go unnoticed.
One can think of Paula (347–404) who traveled with Jerome and set up a monastery for for women and also a hospice for travelers (400). Through the writings of Jerome we can paint a picture of her hermeneutics focusing both on the spiritual and historical meaning of Scripture. Undoubtably, Paula would have had a major influence on the women of this time in her monastery. There is also Macrina, the sister of Basil the Great and Gregory of Nyssa, who was a teacher and leader in female monasticism (338). Gregory calls her "my teacher in all these things" and her influence on him was great. Just a glimpse into the influence these women played in the history of Christianity opens our eyes to a fuller view of history.
These are just two small examples of how this handbook helps give a voice to women throughout history. It is important because many of the overviews of past interpreters of Scripture predominantly focus on male interpreters because they have had the loudest voice throughout history. This collection of entries seeks to remedy this and show the voice of women throughout history in the interpretation of Scripture.
The women included in this handbook are those whose "interpretations were influential, distinctive, or unique in terms of ideas or interpretive genre, or representative of the kind of interpretive writings done by a number of women at a certain period of time (5)." The editor notes that there is a disproportionate amount of women in the post-Reformation period because of the increase of female literacy, education, and access to the Bible. There are 180 entries covering from Faltonia Betitia Proba (ca. 320 - ca. 370) to Elizabeth Rice Achtemeier (1926–2002).
The book is setup in a way to be helpful for a variety of different purposes. If one is seeking the history of interpretation they can go to the Scriptural index or if one is looking for a certain time period they can look at the chronological lists of entries. The bibliography at the end of each entry shows additional resources that one can pursue on each specific interpreter.
The editor, Marion Ann Taylor, is to be commended for putting this volume together. It is a much needed addition to the field of biblical studies and will be especially helpful for anyone interested in the history of reception of the Scriptures. I highly recommend it.
Many thanks to Baker Academic for this free review copy.
You can purchase Handbook of Women Biblical Interpreters: A Historical and Biographical Guide here.
Watch the interview with Marion Ann Taylor to hear about how this book came about.
[youtube ]
---
---
---