Book Review: James: Evangelical Exegetical Commentary by William Varner
William Varner's new commentary on James in the EEC Series by Logos is a goldmine of theological treasures. This commentary is extremely thorough and covers a wide range of exegesis from textual criticism to preaching and devotional use. It is not easy to encounter a commentary that addresses all these issues well but from my use of this commentary since its release I can say that Dr. Varner has succeeded. I have encountered a variety of commentaries on James but this one is by far the most thorough. Here is a summary from Logos on the EEC series:
The publication of the EEC by Logos marks the first time a major Bible commentary series has been published in digital form before its print counterpart—and the first time it has been published with a digital format in mind.

Because it will be published by Logos, the EEC will be fully integrated into the most advanced biblical and theological library available anywhere, powered by Logos Bible Software. It will be accessible wherever Logos Bible Software's platform is available, including Windows, Mac, and iOS devices like the iPhone and iPad. Users who purchase the EEC will also be able to access it online at Biblia.com, and on any future platform where Logos is available.

With the Logos edition, the EEC is completely searchable and full of hyperlinks for easy navigation—including links for Scripture references, cross-references, footnotes, and more. It contains accurate metadata and extensive tagging done by real humans, who understand that when you search for sacrament, results for Lord's Supper and Communion and Eucharist should appear, too.
Introduction
The introduction is a standard one covering authorship, recipients, date, occasion, themes etc. One of the strengths is Varner's outline of James. There has been much debate in scholarship regarding the structure of James, which usually boils down to that James is loosely related. Using discourse analysis he presents a convincing argument for the following structure of James: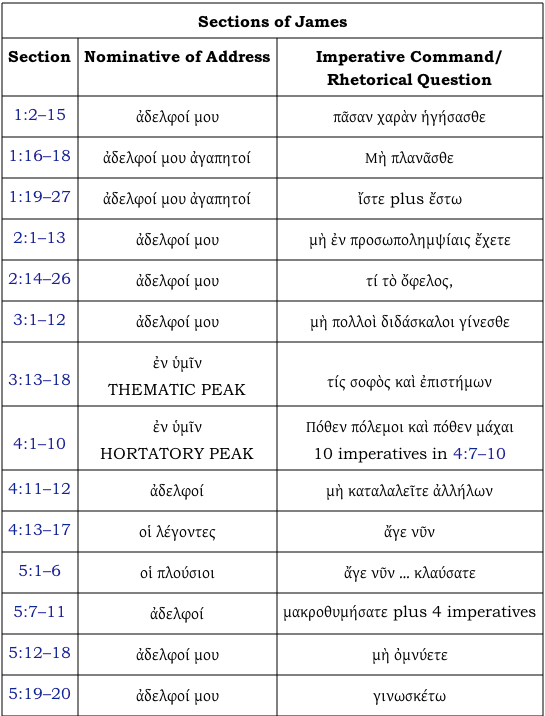 Commentary
Each section of the commentary is generally broken down into nine sections:
Introduction
Outline
Original Text
Textual Notes
Translation
Commentary
Biblical Theological Comments
Application and Devotional Implications
Selected Bibliography
Each section is full of information and is very helpful for the exegete. The detail given to each section does not leave anyone wanting from the student needing assistance in the grammar in James to the pastor needing help teaching James today. The selected bibliography at the end of each section is also very helpful.
The end of the commentary includes three excursuses:
Excursus on Scot McKnight's Treatment of James 2:18
Excursus on James 3:1–12: Can The Tongue Really Be Controlled?
Excursus on Wisdom in James
Faith and Works
On the issue of faith and works being compatible with Paul's teaching on justification by faith Varner takes the eschatological judgement of works on the last day. Following the argument of both Moo and Beale Varner says that "While James uses "justify" and "justification" to refer to God's ultimate declaration of a person's righteousness, Paul uses it to refer to the initial securing of that righteousness by faith."[1] He shows that this understanding is also used by Jesus in Matthew 12:37 that the believer will be judged based on his works in an eschatological sense. He concludes, "Paul wants to make clear that one 'gets into' God's kingdom only by faith; James insists that God requires works from those who are 'in.'"[2]
The Law
Varner sees no difference between the "word" and "law" in James. In a helpful discussion on these topics he points out that James' sees the law in the same way that Jesus presented the law in the Gospels. This "Jesus-shaped" understanding of the law allows the reader to see the connection between the "word of truth", "implanted word", "perfect law", "royal law", and "law of freedom". He concludes by saying, Some readers may think it is necessary to make a distinction between the various synonyms for "word" and "law" in James. I am convinced, however, that James would not intend a semantic or even theological distinction between the Torah and Jesus' teaching. James bases his argument on the Torah as it was understood, interpreted, and applied by the new King over the reconstituted twelve tribes, our glorious Lord Jesus the Messiah."[3] I think the comparison with Jesus' understanding of the law gives the reader a helpful explanation of what James is talking about.
The Rendering of τέλειος
One aspect I think misguides readers in James' is the translation of τέλειος as perfect. Often times, such as the case here, the explanation of the word describes the way James is using it but the translation is still the word perfect. Perfection in the English language often denotes a negative sense or this moral achievement without any blemish. James uses τέλειος throughout to signify the completeness and totality of what he is talking about. In James 1:4 the word is used to describe the complete nature of the person who endures trials. Using the word perfect in translation hides this meaning and often times gives the reading a negative connotation when James is exhorting the believe to endure because we are to be whole and complete in the same way God is. Varner explains this well by saying, "As τέλειος means "complete," so ὁλόκληρος means "complete in all its parts," with no part missing."[4] Indeed, he rightly compares this passage with Matthew 5:48 and shows that James' using this word in the same way as Jesus, "to be τέλειος is to be a complete person with integrity, not like the divided man who is about to be described in 1:6–8"[5] This is just a minor quibble and in no way takes away from the commentary itself. I just hope that at some point the translation of τέλειος as perfect in most cases would be abandoned because of the often times negative connotations it brings in that a person must now be "super good" in his actions.
Conclusion
Overall, one would be hard pressed to come across a more complete commentary on James. The strength of this commentary is that Varner thoroughly covers the nitty gritty Greek grammar/exegesis of the text but also provides a biblical theological summary and pastoral reflections. It is not everyday that you can find a commentary that does this well but this one succeeds. Varner's thorough research and knowledge in the many areas this commentary covers shines throughout. Even where one may disagree with him, Varner is always charitable in his disagreements and provides ample evidence for his own reading. If I were to buy one commentary on James this would be it. You can purchase the commentary here.
---
---
---
---