Creating Engaging Presentations with David Sparks
When's the last time you watched a presentation (especially in an academic setting) and just thought to yourself, "Wow, that was a really good presentation!" I can count on one hand the number of times I've said this. Granted, sometimes I think the content is really helpful or informative, which lessens the dull pain of a bad presentation. Academic presentations are often the worst. Here is how presentations generally go in the academic world: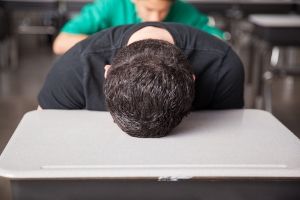 The Presentation
Presenter makes their way to the podium.
Rarely a handout makes it's way around the room or no link given to a

PDF

that is upload to some kind of cloud storage.
Some kind of side joke saying how they are not going to be able to make it through their paper.
25 pages of a finely argued paper begins to be read.
5 minutes later everyone who already does not have an interest in the title of the paper starts dozing off.
Speaker continues to quickly read the paper.

"

Oh no! I have 5 minutes left so I better skip ahead to my conclusion!
Any questions?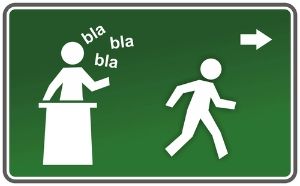 I know I have been both the guy presenting and the person dozing off in the audience.
What if we had a more engaging vision for "presenting papers" and other presentations. What if we didn't just "do the norm" and actually present an engaging presentation about our paper and give access to the tightly knit argument after. Don't you think that you would be much more likely to remember the thesis and overall argument of a paper from a presentation that is engaging instead of reading 8 pgs of a 20 page article?
MacSparky Field Guides: Presentations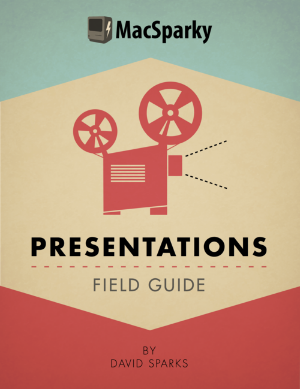 This is where David Sparks, "MacSparky", comes in. He has written a series of "Field Guides" on a variety of topics such as Markdown, Email, Going Paperless, etc. I've read each of his "Field Guides" and they have all been very helpful, even on topics that I thought I had a good hand on.
His latest one covers presentations. Lawyer by day, tech geek by night, David has plenty of experience giving presentations in a variety of contexts. He knows the ins and outs of preparing and delivering thing. This iBook not only helps you prepare the content/delivery of your presentation but also how to create one in Keynote.
I should add that this is an iBook. This means that it not only chocked full of text but also numerous screencasts and images to help you.
I am really looking forward to this one! Check it out here.
Also check out his podcast where he talks about his new book.
---
---
---