Evernote for Academic: Day 03 - Getting Your Stuff Into Evernote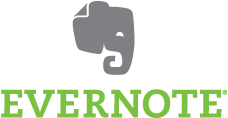 Well you have made it to the third post in the Evernote for Academics series. Previously I gave an introduction to the series and then covered some methods of using tags and notebooks in Evernote along with some other tips. Today we are going to examine one of the beauties of the Evernote system: getting your stuff into Evernote. The app itself has many awesome ways of getting your documents and notes into Evernote such as the app itself, web clippings, screenshots, email, and more. Coupled with the hundreds of apps that allow you to send information to Evernote there is really no excuse for you not to store all your information in Evernote.
For the purpose of this post I am just going to introduce some of the default methods that Evernote provides to import your files and notes into Evernote.
Evernote App
The default method of getting your notes and files into Evernote is the app itself. From here you can create a new note and start typing in your information and you are good to go. One additional useful feature is the ability to drag and drop files into Evernote. Each file uses the name of the file for the title of the note itself. See video below for a quick demonstration of dragging one or multiple files into Evernote.
Evernote also provides a menu bar app for quickly adding notes, taking screenshots, and capturing audio without actually opening the app. You can activate this by either clicking the icon or with a keyboard shortcut. This is particularly useful when you want to capture something quickly without actually opening the app. This frees you from distraction if you are working on another project not in Evernote. It is also handy to create a quick audio file for later.
See video below for a quick demonstration of dragging one or multiple files into Evernote and using the desktop clipper.
Evernote Options
Evernote Web Clipper
This is one of the most handy functions of Evernote. You can take any webpage and import it into Evernote to read and research later. The web clipper works in all the major browsers. Click here to download the Web Clipper. I find this particularly useful for biblioblogs. I save many articles that I may find useful later in research. Often times blogs and other websites can help spark ideas for research or serve as a launching pad for further research. By having these articles in my Evernote database I can easily search them later.
Email to Evernote
Evernote provides each user with a unique email that allows you to send an email to create a new note. I use this especially for emails that I want to save or search for later. Evernote's search functions are often times much better than email clients such as Apple Mail. When I receive an important email I just forward the email to Evernote. For more tips on using this function and for creating a memorable email address see this post.
Evernote Mobile Apps
I will cover using Evernote mobile more in depth in a later post but having a mobile device with Evernote is often the most convinient way to get your information into Evernote on the go.
See here for more information and availability for Evernote on mobile devices.
Evernote also recently bought a note taking app called Penultimate. This is a notetaking app that works well when combined with a stylus on the iPad. I personally have not looked into this yet but here is a review of using the app with a specific stylus.
Skitch
Skitch is a seperate app by Evernote. This allows you to take screenshots, annotate them quickly, and upload to Evernote. See this video that I created for a tip on using Skitch in research.
Print to Evernote
On the Mac you can use the print dialog screen to send a file directly to Evernote. It appears to me that the Mac App Store version of Evernote and the direct download from their site is slightly different. This is the result of some of Apple's limitations it puts on developers in order to create a completely safe environment for downloading programs. Unfortunately, many times this does not allow handy features such as "Print to Evernote."
If you download Evernote directly from their website you will have the "Print to Evernote" feature. This will allow you to send any printable file to Evernote in the form of a searchable PDF.
Third Party Apps
There are numerous third party apps that integrate with Evernote. Integration ranges from just creating a new note to being able to specify notebooks, note titles, tags, and more. Below are some of my most used third party apps.
Byword
Byword is a fantastic distraction free text editor. I prefer to write most of my documents in Markdown. At its core it is very simplified HTML. Now that might sound scary but it is really easy to get the hang of. I find it easier and quicker to write in than using an app like Microsoft Word. With apps like Byword it includes simple keyboard shortcuts for most of your formatting.
After writing your document Byword has a export option that allows you to format and send your document to Evernote.
Popclip
PopClip is a neat little app that brings up options with you highlight text with your mouse. One of their features allows you to highlight any text and send it directly to Evernote.
Drafts (iOS)
Drafts is a great little app for your iOS device. It basically allows you to start writing anything and send to a variety of apps and services. For example, let's say that I am going to send an email to a friend. I open up the email app and begin my message but before I am finished I think it might be better sent as a text message. I would have to copy and paste the text, close the app, open the text messaging app, and send. With Drafts you start your text in one central location and then send it elsewhere after writing. This allows you to always start any text based input in one location. It integrates with a variety of apps such as Messages, Mail, Evernote, Dropbox, Facebook, Twitter, DayOne, and much more. Check out this LifeHacker article for a more complete overview.
See the video below on how I quickly add book, article, and audio recommendations to one running note in Evernote.
Update: In the previous video that was posted I mentioned that you need to create the note in Evernote first before prepending or appending text but this is incorrect. Drafts will automatically create a new note and then append or prepend subsequent entries. This actually makes the workflow more streamlined and less prone to error due to mislabeling the note. Thanks Greg for reaching out with that correction!
The current video below is the updated video that shows the more streamlined workflow.
Conclusion
Well, there you have it. I hope this post was helpful in giving you some ideas on how to get your stuff into Evernote.
[youtube ]
Links to the Evernote for Academics Series
If you would like to subscribe to the blog via RSS click here. If you would rather receive updates via email click here to sign up. 
Follow me on Twitter - @renshaw330
---
---
---