iPad Home Screen
I haven't shared my iPad home screen on here before so I thought I'd write up a little rationale for my setup.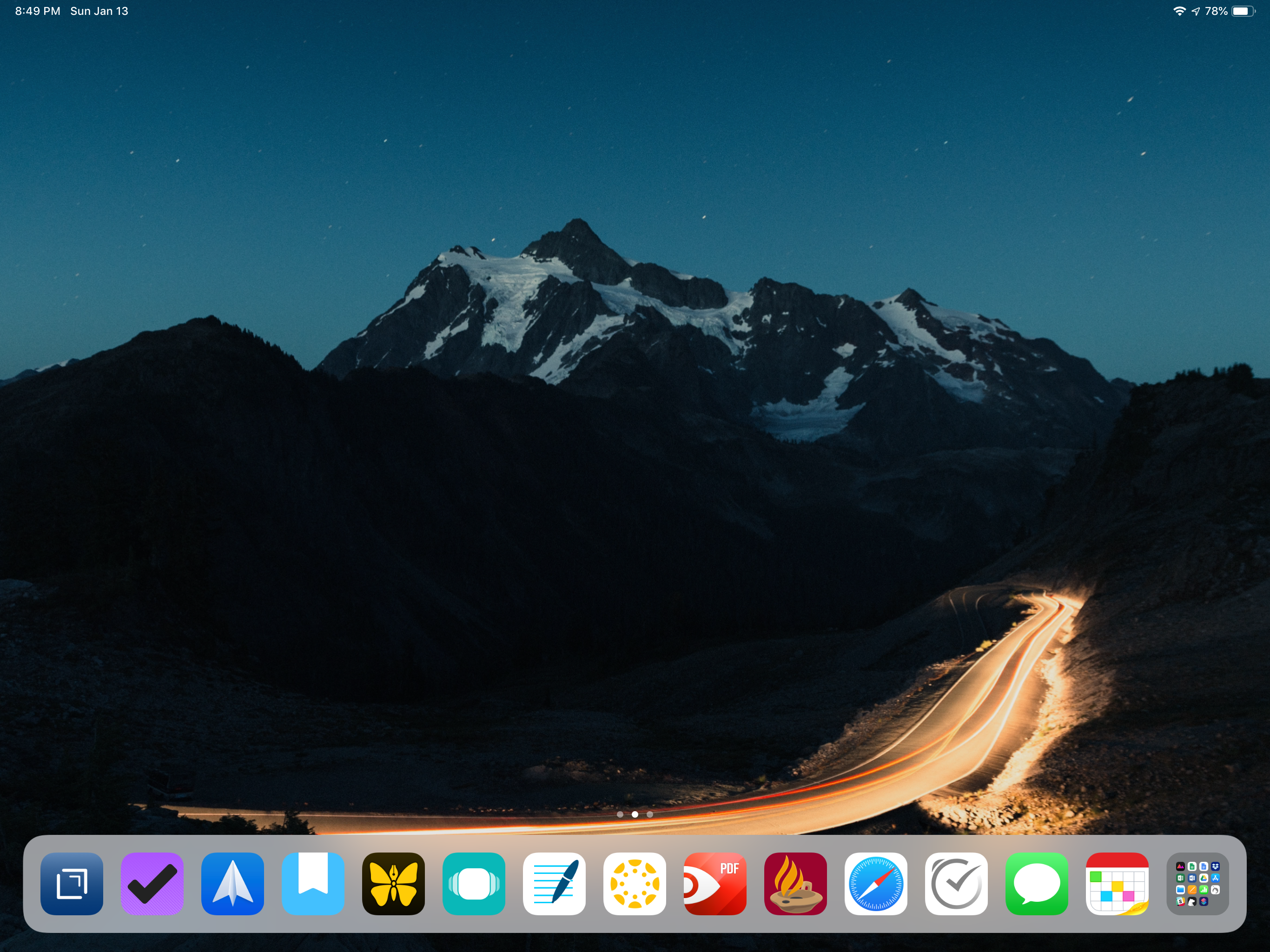 The Basics
Blank home screen: I'm not entirely sure why but having the blank home screen just feels right for the iPad. Maybe its because it mimics my MacBook desktop (completely clear) but this is what has been working for me. I wish you could hide the dock when connected to an external keyboard. This is what I do on the Mac because I search and open everything via a keyboard shortcut. When I open up the iPad there are minimal distractions and only apps that I use to do something productive.
Second page with a couple folders: This just houses a couple folders of apps. They really aren't organized except one folder is games (board games for iOS) and the other is just a handful of random apps. I always search for apps so this isn't an issue.
Dock: Like most people, the dock is my most used apps. I'll list them below. One particular feature of the dock is I do have a folder in it. The folder is my second tier most used apps. When I do not have a keyboard connected it is difficult to search for apps and put them in split screen. By have the folder in my dock I don't have to go all the way back to the home screen to search. This has been the biggest change for me and I've really grown to like it since having the 12.9" iPad. I keep all time wasting apps out of the dock such as Twitter. It's too easy to get sucked in just by seeing the app.
Apps in the Dock
I could write a separate blog post for the reason I use each of these apps and why they are my favorite but for this post I will only write a one or two sentence description.
Drafts - for quick notes, adding items to OmniFocus, and other random writings. Since Agile Tortoise released the beta for the Mac app I've been using this for all my quick notes since it easily syncs with the Mac. I also have several shortcuts that open Drafts to send an email.
OmniFocus - this has been my task manager of choice for 10 years now. I've looked at others and they may be a great choice for some people but for me OmniFocus is tried and true.
Spark - no email client is perfect and has everything I would like but Spark has a decent interface, not buggy, and has some key features that I like such as send later.
Day One - my journaling app of choice and for the past 6 months I've really been putting more stuff in here. I use it as my own social media posting so I am not living out my life in public.
Ulysses - the app where I do most of my writing. I'll throw completed notes that serve as reference for later in this app as well.
Copied - clipboard manager, which is indispensable for me
GoodNotes - what I use for all my handwritten notes, brainstorming, meeting notes, and I use it when I teach Greek
Canvas Teacher - our school uses Canvas as our

LMS

(Learning Management System)

PDF

Expert - I've tried all the

PDF

apps out there and this is the absolute best in my opinion
Accordance Bible Software - my Bible software of choice, which I use for both personal and school research
Safari - self explainable … not a fan of Chrome
Due - quick place to add reminders throughout the day. I really wish this app had keyboard shortcuts for the iPad.
Messages - have to stay in touch
Fantastical - expensive as a separate iPad app but still my favorite calendar app. I like the layout of the week and how you can infinitely scroll through the future and the past. And of course, the natural language input is fantastic
Folder - all my second tiered apps quickly available if I don't have the keyboard connected
The Shortcuts app could be in the dock but I start all my shortcuts from the widget or the share sheet so really the only reason I would have it in the dock is to create shortcuts. I have this app in my folder for quick access.
---
---
---