January 2014 Biblical Studies Carnival XCV
For your listening pleasure while you peruse the carnival (Leftover Salmon - Carnival Time)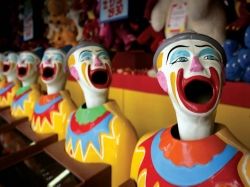 Welcome to the first biblical studies carnival of 2014. Hope you enjoy the show!
First things first, Phil Long is still needing volunteers for March or April so please email him at plong42@gmail.com
Also, Aaron White over at the Mosismose blog is hosting the February Carnival.
ANE/Hebrew Bible/OT Theology
Peter Kirby has added several new writings to the Early Christian Writings site with the rest of the Nag Hammadi Library. Thanks for the hard work on this Peter!
Was biblical Hebrew the one pre-Babel language? Ben Merkle argues "no" and gives some helpful thoughts on elevating biblical Hebrew to a "privileged position."
What does it look like when we read Genesis 1 "literally"? Check out the answer over at the Scribalishess blog.
Marg Mowczko summarizes Julie Parker's recent article, "Blaming Eve Alone: Translation, Omission, and Implications of עמה in Genesis 3:6b", in JBL.
Jacob Cerone examines sin in Micah.
Dr. Mariottini analyzes the Sign of Immanuel (Isaiah 7:14) (part 2). Also esee Edward Fudge on the virgin birth.
Well if you can tie in Led Zepplin and biblical studies you got my vote. See Aaron White'sshort post comparing Hosea and Led Zepplin.
Check out the this podcast over at the Bible Study and the Christian Life blog. It looks at the genealogy in Genesis 5:1–32.
This post of Old Georian phrases and sentences over at the hmmlorientalia blog looks at Isaiah 36:11 and the Georgian addition of "in Persian". Check it out here.
Lxx

,

Dss

, Apocrypha, and More

In this post Gabe Martini explains how Tobit is Gospel and Christian Scripture. He concludes, "Selflessness—the heart of Tobit's message—is at the heart of Christian spirituality. In caring for others, we find true life. And that is the enduring message of Tobit."

Lawrence Schiffman provides an excellent and helpful introduction to STL and Rabbinic Judaism. Also check out References to Apocryphal Works in Rabbinic Literature.

Rick Brannan lists his twitter summaries of each pseudepigraphon.

David Lincicum alerts us to a promising new series The Apocrypha in the History of Interpretation, which is edited by himself and Timothy Michael Law.
Language/Textual Criticism
Steven Runge and Logos are offering an internship program over the summer. Here is the description:
Logos Bible Software is seeking highly qualified candidates for Greek Discourse Grammar Internships this summer. Successful candidates will have mastered the concepts described in Discourse Grammar of the Greek New Testament, and will assist in the development of exegetical handbooks which help pastors and students better understand the exegetical implications of discourse features annotated in the Lexham Discourse Greek New Testament. Interns will work directly with Dr. Steven E. Runge as part of the Logos Discourse Team, providing an unparalleled opportunity to develop the skills and theoretical framework needed for advanced research in the field of NT discourse analysis and discourse grammar.
Check out the whole post here.
Update: I didn't realize there are actually two internship opportunities at Logos this summer. The second one is with Rick Brannan as a Greek Data Curation intern. Here is the description: 
Logos Bible Software is looking for people who know their Greek and want to use it in an environment focused on creating data-oriented products for professors, teachers, students, and laypeople. As a Greek Data Curation Intern, you will work with the Logos Content Innovation team to provide the linguistic foundation for the next generation of tools to help people infuse the Greek of the Bible in their everyday studies and research.
Check out the whole post here
Wayne Coppins has started a new blog devoted to the translation of German New Testament scholarship and has an excellent post reflecting on conversations with Martin Hengel and John Bowden.
Joshua Mann reminds us to read the appendices in our Greek bibles.
Shawn Wilhite examines the pragmatic and semantic descriptions of Greek conjunctions.
The Evangelical Textual Criticism blog looks at the inscriptions for the Catholic Epistles in Sinaiticus.
Brice Jones makes some helpful correctives to some claims made by John MacArthur regarding manuscript evidence.
How linguistcs can better your exegesis: part 2 over at the Old School Script blog. He explains how the Greek article can help identify propositions that are either topical or more likely focal. Check it out! This blog is worth reading if you have any interest in exegesis, which probably includes everybody reading this blog so get over there!
New Testament
Who wrote Hebrews? Phil Long gives a brief summary on the Pauline authorship hypothesis and comments on Dave Black's short (36 pgs.) new book, The Authorship of Hebrews: The Cases For Paul.
Over at the The Naked Bible blog, Michael Sheiser, looks at salvation language in the New Testament.
Brian LePort summarizes the posts that responded to Greg Monette's post concerning the criteria used in the various quests for the historian's Jesus.
Joel Willits explores Francis Watson's new book, Gospel Writing, and the question of truth in the plurality of the Gospels. He also provides a helpful comparison of the first and second edition of the Dictionary of Jesus and the Gospels, which you can find here.
Adoption as sons? or Adoption as children? Suzanne McCarthy investigates.
James McGrath has severl good posts including 1 Timothy 5:18, Pauline Authorship, and the Gospels.
Nijay Gupta gets serious about the Sermon on the Mount. Also note that Christopher Skinner is now joing Nijay at Crux Sola!
Do You Q? (Chris Keith) - 44% YES and 55% NO, which prompts Mark Goodacre to ask Q or not Q? That is the question. Johhny Walker then asks the question Did Luke Know Matthew?. Chris Keith also asks whether Mark Goodacre is still in the minority on Q?
Is Matthew 10:28 referring to Satan or God? Mike Skinner summarizes and reflects on N.T. Wright's proposal. Also check out his post titled "The Gospel: Heaven & Hell or the Kingdom of God".
Did the Apostle Paul believe in a literal Adam? Peter Enns looks at this important question here.
Over at the Targuman blog Christian Brady argues for that Hebrews 11 is a midrash of 1 Maccabees 2. He closes with
"An audience who knew 1 Maccabees would hear the words of Hebrews as building upon that earlier argument and getting behind it. The author of Hebrews is arguing that what motivates one to do deeds in keeping the law is vitally important and, in turn, should alter one's expectations of reward." Check out the post here.
Dunn wrote a post titled Taking the Oral Gospel Tradition Seriously over at the Eerdman's blog.
James Tabor explores the top 7 fateful passages in the New Testament.
Patristics
Larry Hurtado assesses the recent renewed interest of the Apostolic Fathers.
What can the Desert Fathers teach us today? Check out Rebecca Konyndyk DeYoung's post titled_New Life in the Desert: Monastic Wisdom for Public Life_.
Shawn Wilhite assesses the apologetic value of Origen's Contra Celsum.
Matt Emerson provides an extremely helpful list for theological interpretation of Scripture (TIS).
Andrew Wilson provides some quotes concerning Augustine and inspiration (HT: Roger Pearce).
Roger Pearce reflects on some of the value of Academia.edu and points us to some new translations of Chrysostom.
Hermeneutics
Mike Skinner encourages us to Read the Bible Like a Texan, Ya'll!
Related, see the Teknia blog on using "y'all" for the plural here.
What does our interpretation look like when we relize that often times we view what the text's purpose different. Chad Chambers reflects.
Theology
Jessica Parks shares her personal credo with us. She closes with this, "I believe that cruciformity, that is, living and dying like Christ , can and will transform this world through the power of the Holy Spirit." Amen!
Ben Myers tweeted a summary of each book of the Bible. You can find the whole summary here. A couple of my favorites were:
2 Corinthians: O how I love you, you darling scalawags, you dear sweet blockheaded scoundrels, you infuriating puppies!

2 Chronicles: If we build it, he will come.
What difference does Christianity make? Ingie Hovland answers here.
Brian LePort reflects on the similar language of the spirit in Seneca and Paul.
Jim West alerts us to the Princeton Barth Conference.
Others
Steve Runge provides excellent advice on writing academic proposals.
Scot McKnight has an excellent article on translation "elitism".
Jonathan Pennington writes an excellent article on writing over at the Philomythois blog.
Krista Dalton writes an insightful and convicting post on accessing and being aware of the privileges we have.
Bringing the Academy to the people…Madison Pierce reflects and then makes her first attempt (successfully) at doing this by summarizing her and Ben Reynold's recent article, "The Perfect Tense-Form and the Son of Man in John 3.13: Developments in Greek Grammar as a Viable Solution to the Timing of the Ascent and Descent" in NTS. 
Josh Carroll reflects on waiting on God's timing in academia.
The Near Emmaus blog provided a helpful roundup of MLK Day reading.
Check out The James (Ya'akov) Ossuary: The Kalman Interview at the Albright Institute of Archaeological Research in Jerusalem (Video).
What is the difference betwen Fundamentalism and Evangelicalism? John Loftus answers.
Over at the Targuman Blog, Christian Brady alerts us to the Lapidus Summer Fellowship Program:
The Center for Jewish History and the American Jewish Historical Society offer six-week Fellowships to recent Ph.D.s and doctoral candidates conducting original research using the collections of the Center's five partners: American Jewish Historical Society, American Sephardi Federation, Leo Baeck Institute, Yeshiva University Museum and YIVO Institute for Jewish Research.
AncientThought.com is calling for contributors for their early Christian history timeline (HT: Tony Burke).
Adam posts another funny comic titled Get to know your Bible translations.
Check out Paul's Missionary Tube Map (HT: James McGrath).
Unfortunately there is often times a great chasm between the church and the academy. Michelle Mikeska reflects on how we can shorten this gap.
Book Reviews
John Walker reviews Vincent of Lérins and the Development of Christian Doctrine and Jesus and Gospel Traditions in Bilingual Context by Sang-Il Lee.
Carlos Bovell over at Peter Enns' blog reviews The Lost World of Scripture.
Abram K-J reviews Robert Jewett's commentary, Romans: A Short Commentary, R.T. France'sTeach the Text: Luke, NICOT in Olive Tree, and the NA28 in Olive Tree iOS.
Joel Watts reviews the Future of Biblical Interpretation and A Reader's Lexicon of the Apostolic Fathers.
Ben Witherington keeps summarizing and reviewing N.T. Wright's recent book, Paul and the Faithfulness of God: here, here, here, here, here, here, here, here, and here. Yes, you are correct, that is in 9 parts, oh and the 9th post is only in chapter 3.
Tom Schreiner also reviews Wright's new book in the latest issue of Credo.
Review of A Theology of Liberation by Gustavo Gutierrez is posted at James' Ramblings blog.
Brian Davidson reviews the Hermeneia 2007–09 in Logos.
Aaron White begins reviewing When God Spoke Greek by T. Michael Law. You can also find the introduction here.
Judy Redman reviews Oral Tradiiton and the New Testament by Rafael Rodríguez here and here.
Marc Cortez reviews Mike Bird's Evangelical Theology.
Phil Long reviews Michael Bird's Are You the One Who is to Come?
David Lincicum reviews Christopher Tuckett's inaugural commentary in the Oxford Apostolic Fathers series of 2 Clement.
Joshua Mann reviews BibleWorks 9. See part 1, 2, 3, 4.
Michael Sheiser provides several links to reviews of Four Views on the Historical Adam.
Jim West reviews Old Testament Pseudepigrapha: More Canonical Scriptures.
Joshua Paul Smith reviews Molly T. Marshall's Joining the Dance (part 1 and 2).
Brett Vaden reviews Robert Letham's Union With Christ in two parts (1 and 2).
I reviewed the Reader's Lexicon of the Apostolic Fathers here.
Top Books of 2013
Several bloggers included their top books of 2013. Here is the list:
Interviews
There were several interviews in January. I tried to compile a list here:
Nijay Gupta interviews Francis Watson. See part 2 here.
Cliff Kvidahl interviews Andrew Pitts.
Joshua Paul Smith interviews Robert Orlando, who is the director of A Polite Bribe.
Alan Brill interviews Rabbi Yehuda Brandes.
Matthew Montonini interviews Jonathan Pennington, author of Reading the Gospels Wisely.
The Eerdman's blog gave us several treats this month including interviews with James D.G. Dunn, Francis Watson, and Walter Brueggemann.
Luke Geraty interviews Marc Cortez on Blogging, Evangelicalism, and the Holy Spirit. Aso see part 2 and part 3.
Matt Emerson interviews Chad Chambers from the Cataclysmic blog. And Chad Chambers interviews Matt Emerson.
Julie Beck (of The Atlantic) interviews William V. Harris, a professor of history and director of the Center for the Ancient Mediterranean at Columbia University, on mental illness in Ancient Greece and Rome.
New Blogs
There are a couple new blogs that started this month. Check out Greg Monette, who is a Phd candidate at the University of Bristol, employee of Logos Bible Software, and the author of the upcoming book The Wrong Jesus.
Dr. David B. Gowler is blogging through his upcoming book on the reception history of the parables. I particularly enjoyed Rembrandt and the Parable of the Rich Fool of Luke 12:16–20 Part 1 and 2, and 3.
James Crossley's and Deane Galbraith's Biblical Studies Online (HT: Brian LePort). Also check out how to use the site.
Also mentioned above, Wayne Coppins has started a new blog devoted to the translation of German New Testament scholarship.
Steve Walton is also now blogging.
Austin Fischer, author of Young Restless, No Longer Reformed, has started a blog titled Purple Theology.
Along with this blog I joined a new collaborative blog, Philomythois, which hosts a variety of contributors with various interests (philosophy, pyschology, gender studies, theology etc.).
Jim West's Unofficial Carnival
Of course Jim has his unofficial carnival, which includes a lists of "firsts". Ahem Jim, this is also my first carnival…check it out.
---
---
---