Review: Imitating God in Christ: Recapturing a Biblical Pattern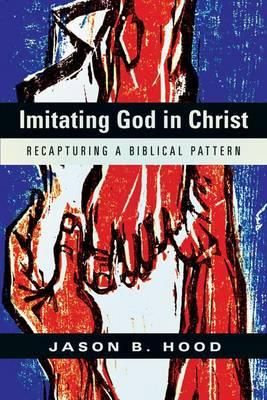 I would first like to thank IVP Academic for this free review copy.
You can purchase the book here.
Download the PDF of the review here
Introduction
Imitation is ingrained into the human experience. People naturally imitate who they admire or honor. Whether it is a child imitating his parents or a student imitating his professor, everybody imitates someone. This can be for better or for worse. Jason Hood's new book Imitating God in Christ: Recapturing a Biblical Pattern stresses the importance of recognizing imitation as a valid and correct way of reading the Bible.
As with all methods of reading the Bible there can be both helpful and harmful ways of interpretation. Imitation done properly is not exact copying but rather is "actions and mindsets that reflect the actions and mindsets of another (12)." He notes that in todays Christianity there are three main groups that use (or don't use) a hermeneutic of imitation. First, the "latitudinal left", who use imitation but leave out the theological grounding. Second, the "muddy middle", who seem confused and tend to "focus on imitation (that is) disconnected from God's work for sinners (14)." Finally, the "reluctant right", who are suspicious of anyone who places an emphasis on imitation. Hood's goal is to reclaim imitation in the life and practice of the church.
Overview
The foundation of the book as a whole is that since human beings are made in the image of God then it necessarily follows that we are imitators of him. Hood continues to show the emphasis that the Old Testament stresses on imitation of God. he notes that many studies of imitation of Jesus and Paul have already been done by imitation actually starts in the Old Testament by imitating God. He says that humans are God's image-bearers so we should "imitate the character he displays as he works (40)." To be human is to imitate God in all areas including his faithfulness, forgiveness, generosity, and righteousness (40). By imitating God humans are responding to God's work and are being sanctified. Christians must realize the dual nature of the way God works in the world, it is both his work and our work, we must hold these in tandem. Imitating God is part of the human experience. He notes that often times in Old Testament interpretation interpreters tend to use a "Christ-centered" only approach but the New Testament also uses the Old Testament to exhort people to godly lives. The impetus for imitating Christ is the Old Testament's call of imitating God.
Hood continues into his next section to focus on the imitation of Jesus. Jesus is the "true image, the true human" and because of this believers are also to imitate him. Jesus as the Messiah is also the "representative human" but the theology of Jesus "should not stop at describing him as a substitute." Imitation includes all aspects of Jesus life, such as bearing shame and scorn as Jesus did. Imitating Jesus also means imitating the vocations that he gave his disciples. Hood notes three vocations: 1) authorized agents 2) apprentices 3) ambassadors (65–68). Each of these aspects should play a role in the believers life. This can not be done alone but it is only the Spirit empowered life that can imitate Jesus properly. Imitation also takes a major role in the New Testament letters. Hood emphasizes that the imitation that Paul calls for is rooted in the Gospel. Since believers are a new creation this is the "engine" that drives imitation, it is not legalism or moralism but an integral aspect of being a Christian.
The final section on "who" we imitate addresses imitating the "saints." This section largely argues that we should see the characters in Scripture (Abraham, Moses, Job, Paul etc.) as ones to imitate. Drawing from the New Testament Hood shows that the New Testament writers use characters in the Old Testament as ones to be imitated. James refers to Abraham, Rahab, Elijah, and Job as all ones to be imitated (160) and Peter, Jude, and John also provide numerous examples (161). He concludes, "the use of characters for moral instruction–a pattern so ingrained in New Testament authors that they even used angels as examples–is virtually absent from some contemporary interpretation (161)."
The most helpful aspect of the book comes in the final chapters (13–15). Hood addresses objections that interpreters commonly give to imitation. This section is largely written for the "reluctant right" and quotes numerous pastors and theologians that voice strong opinions for not using imitation in preaching and teaching (Horton, Greidanus, and others). But if preachers and teachers are going to follow the New Testament example they need to include imitation in their teaching. He argues that one of the functions of Scripture is to be used as moral instruction (169). Interpretation should include both a Christ-centered focus and an imitation focus. Too often the "right" solely focuses on the former. finally, he shows how interpreters of the past included imitation in their preaching and teaching. This list of interpreters includes snippets from the apostolic and early church fathers, Calvin, Luther, Edwards, and others. while this chapter seems to focus on the right it is really a call to all interpreters to rethink imitation and look to the past to a time where imitation was rooted in the gospel and taught to the church
Thoughts
Hood is an engaging writer who presents the biblical text clearly. He is able to weave in more scholarly works with a pastors heart that is still accessible to a wide range of people. Throughout the book he tracks through biblical texts showing how every section and genre of Scripture exhorts its readers to imitation. If you do not think imitation is a biblical concept then this book is for you.
I think his analysis of the left, middle, and right is helpful addressing a large range of readers. By showing that this is not necessarily a new concept but one that has been lost in the church's interpretation today. Hood is reclaiming the church to imitation. For readers who are not familiar with this concept or against a reading of imitation. Pastors, youth leaders, and students are the focus of this book. Pastors will be able to see a vision of how imitation is used throughout the Bible and to spark ideas how to apply imitation properly in preaching and teaching. Imitation is an important concept that should be taught in the church today. We need to follow in the footsteps of the New Testament writers and the interpreters throughout church history and including imitation and are teaching and reading.
The following is not necessarily a critique of the book but rather identifying who this book is for. Personally, while reading this book I found myself wanting more from various topics (imitation in the Gospels, cross bearing, history of imitation etc). Hood covers a plethora of texts in little space. By having a biblical theology of imitation in a short amount of space many concepts are only briefly addressed. It is important to remember the audience when reading a book. Hood successfully writes a helpful introduction to imitation while critiquing various conflicting positions.
One thing that I would like to see is a "how-to" book on imitation for preaching and teaching. This book successfully gets the word out on imitation but a follow up would be helpful to those who are newly persuaded to theologically grounded imitation.
Overall, Hood provides a solid critique of the contemporary scene lack of solid imitation exegesis throughout the Bible. I would recommend this book to anyone who is not familiar with the idea of imitation or is outright against it. If you are wondering what the Bible says about imitation this book is for you. This book will give you a solid foundation of imitation that will allow you to pursue more works that delve more deeply in this idea (see Drama of Doctrine by Kevin VanHoozer). This book is a helpful launching point for discussions within the church for integrating imitation with discipleship.
I'll end with this quote from Jay. Gresham Mecham:
"Jesus as a matter of fact it is a Brother to us as well as a savior –an elder Brother who steps we may follow. The imitation of Jesus as a fundamental place in the Christian life; it is perfectly correct to represent him as our supreme and only perfect example." (70)
---
---
---